Make your next corporate function or fundraiser one to remember with Boopa! Boopa provides your company or organization with expert Disc Jockey and emcee services - offering over 50,000 musical selections from the Big Band Era to today's current hits delivered via computer as well as state-of-the-art equipment, loudspeakers, microphones and over 25 years of experience in the industry.

At Boopa, we know the value of careful preparation and understand that a lot goes into planning an event. We will help you from start to the finish - working in conjunction with each function facility to ensure a unified effort that meet all of your needs. Boopa can provide your company with suggestions for catering, function facilities, announcements, promotional giveaways, and when it comes to music - we've got you covered!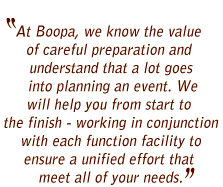 To review our comprehensive services, click on any of the services above or contact
the professionals at Boopa today to see how we can make
your event one to remember!



Home| Who We Are| What We Do | Weddings | Blog | Contact Us