Boopa Productions is one of the finest disc jockey services with a commitment to help you plan your music for your wedding. We understand that a wedding is one of the most memorable occasions for couples and we are dedicated to making sure that yours is just the way you want it!

We have music from the Big Band Era to Today's Top 40 hits. We also have Traditional Wedding Music (Waltzes, Polkas, Slides, Hully Gully, etc.) to satisfy all taste.

Personalized service is essential to ensuring that your wedding will be exactly the way you want it. That is why we meet with you before your wedding and discuss all of your special song selections, announcements and introductions. On the day of your wedding we take requests from your guests and any other requests that you may have. It is our goal to provide you with the best possible experience on your special day.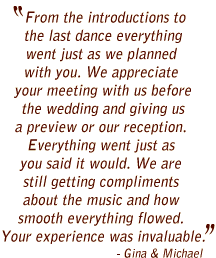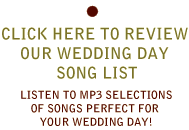 At Boopa, we are dedicated to our couples and have built
our company around our commitment and service. We work in conjunction
with each function facility and adapt to their format to ensure a unified
effort to meet all of your needs. Contact us today to learn more.