For over 25 years, Boopa Productions lead by disc jockeys Ron Ferris Sr. and Ron Ferris Jr. has helped make thousands of events memorable through comprehensive disc jockey services.
We are not an agency. We are a family business that cares about your needs.

At Boopa, we will work carefully with each client before and during every function so there are no surprises. We want your function to be a success and realize the entertainment can equate to 80% of it. We value the importance of pre-function meetings and work with you to gain a full understanding of your needs.

Because we pride ourselves on providing unsurpassed customer service, Boopa can also help you plan your event from start to the finish. We have years of experience coordinating and planning functions and will work in conjunction with each function facility to ensure that all goes smoothly.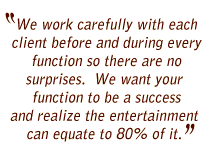 Allow the professionals at Boopa to make your event one to remember!
Contact Boopa today to see what we can do for you.