Looking to keep people entertained at your next function? The professionals at Boopa offer karaoke services that will liven-up any event!

Karaoke can be used in conjunction with our expert disc jockey services or as a stand-alone service. Karaoke allows your guests to sing a song using special recordings that remove the vocals from the recordings. Karaoke requires the use of a special CD player and TV monitor that displays the words to the song on the monitor screen for a person to use to sing the song. Provisions are made for up to three people to be able to sing at the same time.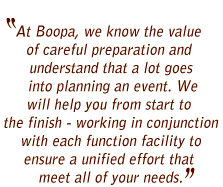 To review our comprehensive services, click on any of the services above or contact
the professionals at Boopa today to see how we can make
your event one to remember!





Home| Who We Are| What We Do | Weddings | Blog | Contact Us